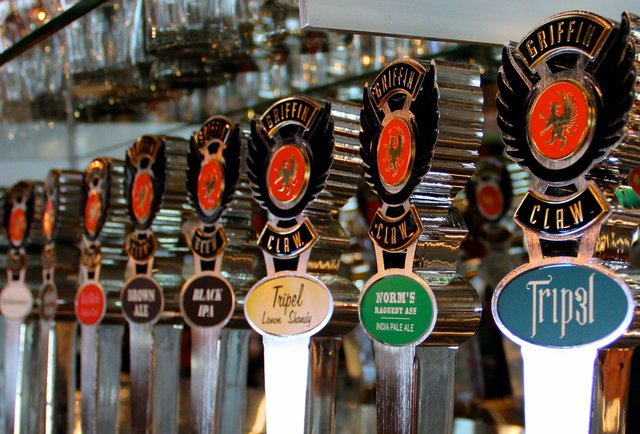 The Michigan craft beer scene is ever expanding, it seems like every other day we hear about either a new brewery or new beer to peak our interest as a craft beer consumer.  Just recently Griffin Claw Brewing celebrated their 1 year anniversary as a brew pub and it's not at all hard for me to say that they have earned a spot as one of my favorite brew pubs in the state.
Located in Birmingham Michigan Griffin Claw has made a name for itself by providing an excellent environment that has an emphasis in sharing great beer with great people.  Unlike a lot of bar's Griffin Claw offers community seating inside their taproom, which really is a selling point.  It really will encourage you to put the cell phone down and enjoy the company you're with, wonderful environment, and excellent beer that is available.  Assuming the weather cooperates the patio is worth pointing out as well, the communal seating around a fire pit is ideal for hanging out on a Friday night relaxing and enjoying your company.  The food at Griffin Claw has been great every time I've been in too, I always find something that feels like "bar food" but doesn't make me feel like I need to go run 5 miles to make up for what I just ate. The menu has changed to offer new and different items on a somewhat regular basis but I have never been let down when ordering food at Griffin Claw.   Lastly the Imperial Stout Brownie Sundae is the one desert that I can never resit.  I'm not into deserts but that brownie, well it gets me every time.
Another area in which Griffin Claw shines is it's staff.  Every person that has ever waited our table has not only been pleasant but also very well informed on the offerings on their brews and does a good job of explaining what to expect form each beer.   If your relatively new to the world of craft beer this is great and really is another way that Griffin Claw Stands out.  No one likes to be blind sided by their order and if your not familiar with what to expect from a sour amber ale the staff can give you a pretty good idea if it's something you will enjoy before your order is placed.  This might not sound like a big deal, and for some of us the explanation probably isn't needed, but for me it shows how much Griffin Claw takes pride in the product they make and I love that they reflect it in their staff.
Griffin Claw Beer Reviews-
I've been visiting Griffin Claw since some time last fall; so rather than just featuring a single beer to review I thought it would be appropriate to spread the love and feature 4 different beers that are normally available at Griffin Claw.  Two of the brews that I really love at Griffin Claw will not be reviewed here, Go Figure Black IPA because its not available in the tap room right now and El Rojo because we have already talked about it in a different article.  So lets talk about beer!
Norm's Raggedy Ass IPA-
To me you can't be a reputable brew pub if you can't nail down your flagship IPA and Norm's certainly hits the mark here.  Norm's Raggedy Ass IPA is a little more malty and bitter than what a lot of IPA's have come out as in the last few years, and that is not a negative, it really beckons back to my original impression of what an IPA should be at a more traditional level.  Norm's is a little more on the hearty side and checks in with an ABV of 7.5% and has a crisp clean finish that puts this brew in the running for the kind of beer I could drink at any occasion.  Norm's Raggedy Ass IPA is also available in cans so if you can't make it to the tap room it's still worth picking up a 4 pack of to enjoy at home.
Project Clementine Imperial/DIPA
Project Clementine is one of the heavy weight brews on tap at Griffin Claw and as much as I love this brew this one might no be for everyone.  I was in love with the concept of this beer well before I got to try it, I love IPA and I love the citrus in IPA's, so to brew with clementines which are normally pack a stronger citrus flavor to say my interest was peaked was an understatement.  Project Clementine was served in a goblet which was the perfect glass ware choice as it really lets you enjoy the citrus aroma that enchants, relaxes and refreshes all at once.  This is a beer that is really best to be sipped and enjoyed.  The citrus is rocking in the beer and the 9% ABV is certainly noticeable.  It's a great beer to enjoy by the Griffin Claw patio fire place as summer winds down.
Norm's Gateway IPA-
Session IPA's have become one of my favorite types of beer this summer.  Session IPA is great because it's lighter in ABV (only at 4%) which also lends to it being lighter to drink but still packs all the flavor of its big IPA brothers.  Gateway is one of the best Session IPA's available in Michigan, and really one of the better that I have found at all.  Gateway has a some slight pine, citrus, and apple notes to it and is a very crisp refreshing beer to enjoy.  Gateway is one of the two Griffin Claw brews that can normally be found in my beer fridge and has made the hotter days of summer far more enjoyable.
Grind Line Pale Ale-
Grind Line is by far my favorite option at Griffin Claw, to be fair I might be a little biased on it since the can features a hockey puck and some teeth that are laying knocked out on the ice.  Still Grind Line is a beer that I feel privileged to enjoy 82+ nights a year during the Red Wings hockey season.   Grind Line pours with something between a copper and amber color and has a rather distinctive grapefruit taste that accompanies additional citrus flavor.  Again being a lighter beer and only having a 5% ABV is a good thing with this beer because you can enjoy it throughout the week with relative ease.  As much as a love this beer in a can I can't stress enough that it really is spectacular on draft in the tap room.  I'm not going to claim to know the science to why but this is one of those beers that really shines getting off draft.  That's not to discredit the canned product, I love that as well, but Grind Line would be the brew that I would say is a must try in the tap room.
Hunter S. Thompson once said "Good people drink good beer", this quote is printed on every 16oz Griffin Claw can.  Griffin Claw has earned it's reputation as one of the best brew pubs in Michigan and will only grow as they move forward.  Their pub is always hopping and the passion and love for their beer shows in every aspect of that tap room.   Griffin Claw also distills their own spirits and has house made wines as well so even if beer isn't your thing there are other options to enjoy.  Make sure you take the time to enjoy this pub because they truly are one of the reasons that Michigan's reputation as a great beer state is well placed.
Griffin Claw Brewing Co. is located at
575 South Eton St.
Birmingham Mi. 48009
Hours of Operation:
Tue-Thursday- 2-11pm
Fri – 2-Midnight
Saturday- Noon to Midnight
Sunday Noon to 10pm
Monday Closed
Thanks John!  I've heard so much about this brewery and its brews (Ragedy butt in particular).  If you haven't been to Birmingham, MI folks its a great place to visit especially at night. – Sommbeer.
John Fahrner Bio:
John resides in Wolverine Lake, MI and is interested in craft beer, the Detroit Red Wings and MSU.
Twitter Bio  @fahrn13
#craftbeer #beer #MSU #redwings #sommbeer #dissenter #IPL #founders
 Interested in becoming a SommBeer Contributor?
Send me a note   sommbeer@gmail.com
Fan of Hockey, Football, and Mexican Food. Preferes beers in the style of Stout, Porter, IPA, and Red Ales.
Not a fan of Pumpkin beer or Sours