Editors Note: This celebrated beer demands a lot of attention and I thought some additional input from a few of us would be fun. Don created the foundation for this post, John and I contributed our thoughts at the footing.  This is KBS!
Featured Contributor:  Don Manfredi  @profmanfredi
I have always said that the best thing to mix with alcohol is alcohol. Drinks like Manhattans and Martinis are perfect examples of this theory in practice. This idea is one reason why aging beer in bourbon barrels works so well. Of course right now bourbon barrel aging is so hot that if you aged leftover pickle juice in a bourbon barrel and said it was "limited release" you could probably create lines around the block and charge double what the pickle juice is worth. Take what happens once a year in late March-early April when everyone loses their minds for Founder's Kentucky Breakfast Stout (KBS for those of us too busy chasing it to have time to say the whole name). KBS is one of the benchmarks for the bourbon barrel aged stouts, and rightly so.
I had my first bourbon barrel aged stout on draft in 2011 when I had a Dragon's Milk from New Holland. I was blown away by the flavor and equally blown away by the alcohol content. As I was enjoying my second of my 2 Dragon's Milk maximum, a peg legged, one-eyed, weathered man looked up from his drink, and said "Call me Ishmael…" then went on to tell me stories about the whales of the bourbon barrel aged stout ocean. The three he mentioned that were "must haves" were KBS, Goose Island Bourbon County Brand Stout (BCBS) and Bell's Black Note (I think we just call this one Black Note). I will skip the saga of my first year of whale hunting (2012) when I chased all three of these monster beers, and go right to the KBS discussion.
My first KBS was in 2012 and it was a real experience. First sip I was like, "This tastes just like Dragon's Milk, why did I trade a kidney to get it?" but then I went on a flavor roller coaster ride. This beer changed through the entire snifter. Vanilla then coffee, then chocolate. All accompanied with a slight alcohol burn. From that point on, I was hooked on all things bourbon barrel aged.
Since 2012 I have tracked down and drank quite a few bourbon barrel aged beers. On Friday I had a 2015 KBS. I went warmer this year and poured this stout when it was about 55 degrees. I also went with a tulip not a snifter this year. 2015 KBS is still an absolutely amazing beer. The bourbon, chocolate, coffee and vanilla are still there and they still move in and out as the beer changes temperature. This beer is really worth the chase. However, I want to point out a few more really good bourbon barrel beers, some that get mad love, and some that fly under the radar:
Bell's Black Note – This is my personal favorite of the bourbon barrel whales. It is a blend of Expedition and Double Cream Stout that is aged in bourbon barrels. Bell's isn't really clear each year about when it is coming out, and it is really hard to get but really worth the chase. This beer is crazy good. If I could only have one bourbon barrel aged beer ever again, it would be Black Note.
Goose Island BCBS – Yes, Goose Island, the same company that makes Honker's Ale and 312 and is owned by Inbev makes one of the best bourbon barrel stouts. They have a coffee variation too, and they also roll out ones you can only get in Chicago. I like BCBS, but don't chase it too hard.
New Holland Dragon's Milk – You can get this all year, and everywhere. It is a really solid example of the style. In fact, if you have not had a bourbon barrel aged stout before try this one first to see if you like it before you go crazy chasing a whale. I often wonder if they changed the recipe in 2012/13 because it does seem to taste different to me these days. Of course that could just be my taste buds dying…
Greenbush Delusion – I love this beer. In fact, I put it ahead of BCBS and it nips at the heels of KBS. This is an Imperial Cream Stout and they age it in a variety of Rye and Bourbon barrels. This year I got the ones aged in Templeton Rye barrels and it was stupendous. There is something about the mouth feel of the cream stouts that helps cut the astringency of the alcohol.
Lagunitas High Westi-fied Imperial Coffee Stout – OK I have one bottle of this and have not tried it yet but I am putting in on the list because I have yet to have a bad beer from Lagunitas. Will let you know what I think when I finally drink it.
There are quite a few more that I have not tried. There are also a couple that I really want to get my hands on like Three Floyd's Dark Lord Stout, a beer so good they have a day named after it (in Munster Indiana only).
So, my conclusion is this: bourbon barrel aged stouts are great beers if you love stouts. They key is that the base beer needs to be good to start with. A bad tasting stout aged in a bourbon barrel will just be a bad tasting bourbon flavored beer that you probably paid too much for. Don't be fooled by the folks that use bourbon barrel aging to cover up their brewing sins. Happy whale hunting.
Notes from Sommbeer Co-founder – John Fahrner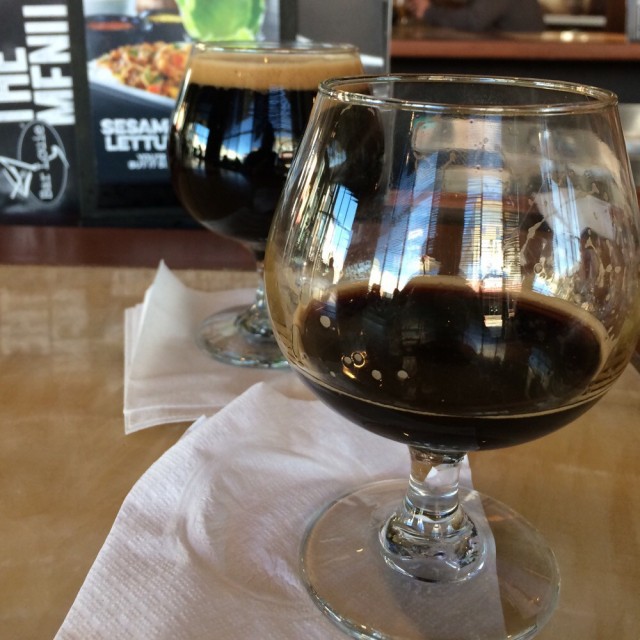 There are some beers out there that really exemplify the concept of trophy beer.  Beers that almost require talking to countless distribution reps, liquor store clerks, bartenders and the tracking of bottles and taps online.  120 IPA, Heady Topper, Bourbon County, and Hopslam are just a few examples of these treasures that beer aficionados and enthusiasts search for annually.  Currently making it's way to shelves and brewpubs is the highly acclaimed Founders KBS (Kentucky Breakfast Stout).  Is KBS worth the hunt? In my opinion yes,  Taking the time to track down a stout like this might not be for the easily discouraged but KBS is one of the annual highlights in my beer year.
Kentucky Breakfast Stout is a beautiful opaque velvety black stout that the good folks at Founders cave-age for a year inside of oak bourbon barrels.  For a lot of beers out there I'm starting to feel like the words "bourbon barrel aged" is just slapped on the label to get people to spend an extra 5 bucks on a bomber bottle, but KBS is a masterful example of how amazing an aged beer can taste.  Upon opening a bottle of this brew you will be consumed with a very potent bourbon, coffee, and chocolate aroma.  Although potent, this never hits the point of overpowering, one of the greatest accomplishments of KBS is it's ability to be incredibly strong and manage not to be abrasive at the same time.  If you're really into proper glassware for your beers make sure you grab a snifter for this one, the lacing that KBS leaves on the glass is a thing of elegant beauty.  Once you're ready to cool it on admiring this beer and get around to drinking it you'll quickly realize why this beer is so sought after.   Rich coffee and chocolate flavors backed by prominent bourbon flavor with hints of vanilla that manages to balance everything out.  Other subtle flavors manage to show small hints of themselves but the bourbon, coffee, chocolate, and vanilla really are the rockstars of this beer. The stout is as full and rich as anyone could hope for in a stout and with an ABV coming in at 11.2% it more than holds its own with the other big boys of the Imperial stout world. This beer also ages magnificently in bottle, if you have patience (unlike myself with the 2014 vintage) KBS only gets better with an additional year or two under its belt. Lastly this beer pairs extremely well with a good sweet cigar, perfect for relaxing with on a cooler night.
Notes from Sommbeer Co-founder – David Barrett
When I first tried KBS I was amazed.  It wasn't a beer, it was an experience.  So rich and complex! Layer after layer of flavor, forced me to slow down and think .   I remember my first KBS was on a buddies back deck (Mr. Tony my kids call him).  We split the one precious bottle (yes separate cups – sheesh).  It was spring as noted on the calendar only.  We were cold but we savored every drop of this newfound brew.  I remember it had just the slightest hint of harshness that reminded me of Dragon's Milk, a brew that was barrel aged but not as celebrated a beer.
The next year I scooped two more KBS bottles and saved one.  The year was 2014 and I drank that bottle last weekend almost exactly one year later.  I split that beer with Mr. Tony (again two cups).
We popped the cap, poured half in each glass and simultaneously tasted the one year old beer.  Tony looked worried as he studied my face.  Something was wrong he thought.  Sure was, I didn't like it as much as the fresh KBS! Oh the horror.  All my Expedition Stouts get better with age, I get better with age but not this beer.  The age smoothed it's rough edges, that hint of harshness was completely gone and I missed it.
Founder's KBS factoids:
ABV 11.2 %
Calories 336 (who cares?)
IBU 70
Don Manfredi Bio:                                                                                                                             Comfort is the direct enemy of growth.                                                                                     Plymouth, MI                                                                                                                                                   Twitter Bio: @profmanfredi
John Fahrner Bio:                                                                                                                                         John resides in Wolverine Lake, MI and is interested in craft beer, the Detroit Red Wings and MSU.                                                                                                                                           Twitter Bio  @sommbeer_john
David (Sommbeer) Bio:                                                                                                                                   God, family work and beer always in that order.                                                                                 Twitter Bio: @SommBeer
Interested in becoming a SommBeer Contributor?
Send us a note   info@sommbeer.com
Latest posts by Don Manfredi
(see all)